Things to Do on Waiheke Island
What is there to do at Waiheke Island? What is there to do for free in Waiheke? Well, there are so many things to see and do on beautiful Waiheke Island and so many of these activities on Waiheke are free. Here are some of our suggestions to help you make the most of it when you visit Waiheke! Stay Waiheke and Play Waiheke! It's Waiheke unlimited with so many things to do and activities on Waiheke Island!
Waiheke Island is surrounded by water!
The coastline of Waiheke Island is a whopping 133 kms long and we are justifiably proud of our glorious 40 kms of beautiful beaches and of the clean, clear water surrounding Waiheke Island.
While you visit Waiheke, why not take to the water on a kayak or a stand up paddle board, or join a magical guided kayaking tour from Kayak Waiheke, or snorkel off beautiful Enclosure Bay, or fish off the rocks at Sandy Bay or join a fabulous On The Hunt Fishing Charter... there is something for everyone and plenty of on the water, by the water and beach related activities on Waiheke Island.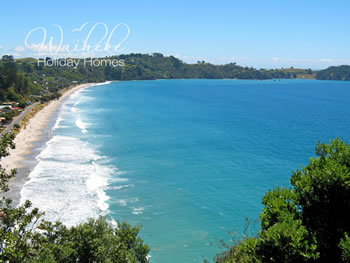 Waiheke Island is also surrounded by glorious white sand beaches!
Perhaps your favourite thing will be lazing on one of the 40 kms of Waiheke Island Beaches - beautiful white sandy beaches - and soaking up the sunshine while the children splash and play in the clean blue sea. Relax with a good book or a glass of chilled Waiheke Wine and enjoy the sound of the waves and the gulls. Or maybe you will enjoy a refreshing swim in one of the many tranquil bays that surround Waiheke Island, or get our your design and build skills while helping the children to build sand castles, or you might just enjoy showing off your body-surfing prowess on the gentle waves at Onetangi Beach.
Waiheke Island beaches are the perfect place to enjoy a stroll in the sunset, sunrise or any time of the day for that matter! Many of the Waiheke beach reserves provide free public gas BBQs so that your day can be extended to include dinner and there are also picnic tables at virtually every Waiheke beach and at most of the Waiheke playgrounds... there really is something for everyone and just so much to do on Waiheke Island!
Waiheke Island Walking Trails
You'll find plenty of beautiful views and vistas to take your breath away and feast your eyes upon on any one of the many scenic walking trails on Waiheke Island. From the world renowned Headland on The Gulf Sculpture Walk at the western end of Waiheke to the glorious scenery of the Stony Batter Walkway at the peaceful Eastern End of Waiheke there are walks to be found in all areas of Waiheke Island, all grades of walks, long walks and short walks around Waiheke for all levels of fitness.
The Waiheke Walking Festival is held each year in November and is a wonderful way to explore Waiheke Island on foot while meeting and enjoying the company of other walkers. Join any of the free guided walking tours and visit parts of Waiheke Island that are only open to visitors during the Waiheke Walking Festival. Your guides are knowledgeable about Waiheke and it's history and are passionate about the wonderful walking trails on Waiheke Island.

Adventure activities on Waiheke abound!
For adrenalin junkies and those who enjoy the slightly more adventurous activities on Waiheke Island, head to Ecozip Adventures and zoom across the valley, over a working vineyard and above native tree tops on an amazing flying fox zipline.
Archery and laser clay pigeon shooting are a great fun way to spend some time at Wild on Waiheke and afterwards enjoy a boutique beer and a delicious pizza from the Wild on Waiheke café and bar.

Waiheke Island Art - Waiheke enjoys a thriving Art Scene
You'll find plenty of Artist Studios and Art Galleries on Waiheke Island. Why not walk along the family friendly 3 km Waiheke Island Art Trail which starts at the Matiatia Ferry Terminal and showcases some beautiful examples of the thriving Waiheke art scene along the way. Wander through Alison Park in Oneroa Village, home to several sculptures that have featured in past Headland Sculpture on the Gulf exhibitions which are held every two years, and then visit the galleries and art shops in Oneroa Village. The Waiheke Community Art Gallery in the Artworks Centre in Oneroa Village is well worth a visit to see the latest and greatest exhibition. The Waiheke Art Gallery can also provide you with details of Artist Studios to visit as well as provide your with a Waiheke Island Art Map.
If you would like to join a guided tour of Waiheke art studios and galleries, there are plenty of great options available. You can join a Waiheke Walking by Nature Art Walk and experience the best that Waiheke Art has to offer by foot, visiting galleries, sculpture parks and artist studios and lunching at a spectacular property where one of the artists of Waiheke Island lives and works. Or look at the fabulous options available in the Waiheke Island Tours below.
Waiheke Island Tours - Waiheke Island Wine Tours
Why not take the day off and enjoy the luxury of a Waiheke Island escorted guided tour of the sights and sounds of beautiful Waiheke Island. Amongst the many Waiheke Tours available, Waiheke Island Wine Tours offer a great range of personal guided tours. Ananda Tours offer a great selection of larger group tours.
If you like the idea of something very unusual, you could try a tour with Tesla Tours who offer a luxury private tour experience for 2-4 guests (including children) in a fabulous Tesla Electric Car.
Where to Eat on Waiheke? Waiheke Island Restaurants and Cafes are in plentiful supply!
Whether you're looking for a delicious Waiheke coffee, a quick bite to eat at a Waiheke Cafe in the middle of your busy day of Waiheke Island activities, or you would like to enjoy a long, lingering lunch or dinner Waiheke Island Restaurants and Cafes will leave you spoilt for choice. You will find something to suit every taste bud and every bud-jet (please excuse the pun), from takeaway gourmet hamburgers and fish and chips while relaxing and enjoying the vibe at the beach through to the world renowned and award winning restaurants and wineries at Waiheke Island. Mudbrick, Cable Bay and Tantalus are names that are known around the world for fabulous food, wonderful Waiheke Wines and the most stunningly beautiful Waiheke Island views. Or visit Vino Vino Wine Bar, the Oyster Inn or Wai Kitchen in the heart of Oneroa Village, all offering great food and wine. There are also plenty of Waiheke Island Wineries offering fabulous food and local Waiheke Wines scattered all over Waiheke. You truly are spoilt for choice when it comes to finding somewhere perfect to answer that question... where to eat on Waiheke Island!
A visit to the Waiheke Island Markets is great fun!
When you visit Waiheke on a weekend, you can enjoy a morning at the Ostend Farmers Market which is held every Saturday between 8am and 1pm at the RSA building and RSA Reserve in Ostend Village at the centre of Waiheke Island. It's a great place to wander around and enjoy the sights of locals and visitors enjoying themselves and sampling some of Waiheke's world-class organic produce. You'll find lots of Waiheke gourmet foods to try and buy as well as fabulous Waiheke art and jewellery, clothing, books, plants, hats, tea towels... you name it! The Ostend Market, held in and around the community hall on Saturday mornings is a great place buy island-grown seasonal, spray-free and organic produce.
Drive The Loop on Waiheke!
Enjoy a lovely drive and magnificent scenery when you Drive the Waiheke Loop road. Stop at Passage Rock Vineyard & Winery for a delicious lunch or enjoy a tasty platter and wine tasting at the beachside Man 'o War Bay Winery in beautiful Man 'o War Bay before continuing on to the Stony Batter Gun Emplacement reserve. The tunnels are currently closed (2016) however it's worth the walk from the parking area to the gun emplacements just to enjoy the magnificent scenery you will find when you get there! Continue on along the gravel road, past Cactus Bay and eventually meet up with the road you left on! A very enjoyable day out!
Dog Friendly Walks on Waiheke Island
There are lots of fun things to do with your pooch on Waiheke. Many of the Walking Trails are dog friendly. The Te Ara Hura Walk allows dogs on many of the trails. Be sure to check the Te Ara Hura map first. Te Toki Reserve on Wilma Road at Palm Beach offers a lovely huge paddock area where pups can run free and with mowed paths for humans. This is open for dog walking at all times of the year and is especially good when Fido needs a walk during the non-permiited on the beach hours in the middle of summer.
Dog Friendly Beaches on Waiheke Island
Almost all of our beaches are dog friendly at certain hours all year, and dog friendly for all hours for many months of the year. As a general rule, from 2 March until 30 November every year, dogs are permitted on Waiheke beaches off leash. Between 1 December and 1 March, dogs are permitted on Waiheke beaches after 6pm and before 10am. The Eastern End of Waiheke has a couple of great dog friendly beaches that are open all year round. Man o' War Bay Beach and Orapiu Beach both currently permit dogs. But seriously, don't take our word for it!!! For current information on dog access on Waiheke Island beaches, check with the Auckland Council.
Dog Friendly Wineries on Waiheke Island
A great day out with your dog is to Drive The Loop to Man 'O War Bay where you can choose to either enjoy a picnic on the beach with your four-legged family person running free, or enjoy a fabulous lunch and wine tasting at the Man 'o War Bay Winery just across the lane from the beach and where your fur baby is very welcome, under control. This beautiful, Pet Friendly Waiheke Winery has a wonderful ambiance with lush green parkland across the lane from the beach, with lots of tables in the sunshine or the shade and plenty of room for the kids to play. Man o' War Winery Waiheke Island is a favourite!
Passage Rock Winery and Vineyard is also located on the Loop Road at the beautiful, peaceful Eastern End of Waiheke, about a 15 minute easy drive through beautiful scenery from Onetangi Beach and well behaved canines as well as well behaved children are most welcome here.
Things to do with The Kids on Waiheke Island - Child Friendly Waiheke
There are so many things to do with children on Waiheke Island! Everything from climbing the wonderful old pohutukawa trees lining Onetangi Beach or building the world's best sand castle to chilling out at the wacky Waiheke Cinema for the latest kids blockbuster or grabbing a great lunch at one of our fabulous child friendly cafes dotted around the Island. We're currently compiling a list of fun things to do with kids on Waiheke and it'll be here very soon.
Matariki on Waiheke Island
Matariki Festival is a favourite activity during the winter months and Waiheke is a fantastic place to enjoy the stars! Matariki is an internationally recognised star cluster that can be seen all over the world. The rise of Matariki in the winter skies above Aotearoa signifies the start of the Maori New Year. The early darkness during the winter school holidays makes star gazing opportunities for kids the perfect winter activity on Waiheke. The Waiheke Community Art Gallery usually holds a Matariki celebration during the late June and July for an evening event of star gazing, music and fun.