Things to Do on Waiheke Island
There are so many things to see and do on beautiful Waiheke Island. Here are some of our suggestions to help you make the most of your visit to wonderful Waiheke!
Waiheke is surrounded by water! And we're surrounded by pristine beaches. Why not take to the water on a kayak or a stand up paddle board, or join a magical guided kayaking tour from Kayak Waiheke, or snorkel off beautiful Enclosure Bay, or fish off the rocks at Sandy Bay or join Phil Scott on a fabulous Adventure Fishing Charter... there is something for everyone on Waiheke Island.
www.kayakwaiheke.co.nz
www.adventurefishing.co.nz
Waiheke features plenty of scenic Walking Trails. You'll find plenty of beautiful views to enjoy on any one of the many walking trails on Waiheke Island. From the world renowned Headland on The Gulf Sculpture Walk at the western end of Waiheke to the glorious scenery of the Stony Batter Walkway at the peaceful Eastern End of Waiheke there are all grades of walks for all levels of fitness. The Waiheke Walking Festival is held each year in November and is a wonderful way to explore Waiheke Island on foot while meeting and enjoying the company of other walkers.
sculptureonthegulf.co.nz
www.waihekewalkingfestival.org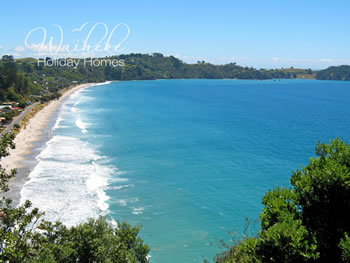 Waiheke is also surrounded by glorious white sand beaches! Perhaps your favourite thing will be lazing on one of Waiheke Island's beautiful white sandy beaches and soaking up the sunshine or enjoying a refreshing swim in one of Waiheke's many tranquil bays or helping the children to build sand castles or showing off your body-surfing prowess on the gentle waves at Onetangi Beach. Waiheke's beaches are the perfect place to enjoy a stroll or enjoy a picnic or BBQ on one of the many free public gas BBQs... there really is something for everyone on lovey Waiheke Island!
Adventure Activities abound on Waiheke! Archery and laser clay pigeon shooting are a great fun way to spend some time at Wild on Waiheke and afterwards enjoy a boutique beer and a delicious pizza from the Wild on Waiheke café and bar. For the real adrenalin junkies head to Ecozip Adventures and zoom across a working vineyard and native tree tops on an amazing flying fox zipline.
wildonwaiheke.co.nz
www.ecozipadventures.co.nz
Waiheke Islands enjoys a thriving Art Scene. You'll find plenty of Artist Studios and Art Galleries on Waiheke Island. Why not walk family friendly 3km Art Trail which starts at the Matiatia Ferry Terminal and showcases some beautiful examples of Waiheke's thriving art scene along the way. Wander through Alison Park, home to several sculptures that have featured in past Headland Sculpture on the Gulf exhibitions which are held every two years and then visit the galleries and art shops in Oneroa Village. The Waiheke Community Art Gallery in the Artworks Centre in Oneroa Village is well worth a visit to see the latest and greatest exhibition. The Waiheke Art Gallery can also provide you with details of Artist Studios to visit.
sculptureonthegulf.co.nz
www.waihekeartgallery.org.nz
www.waihekeartgallery.org.nz
Waiheke Island Restaurants and Cafes are in plentiful supply! Whether you're looking for a quick bite to each or you would like to enjoy a long, lingering lunch or dinner Waiheke Islands Restaurants and Cafes will leave you spoilt for choice. You will find something to suit every taste bud, from hamburgers or fish and chips at the beach to award winning restaurants and wineries. The Ostend Market, held in and around the community hall on Saturday mornings is a great place buy island-grown seasonal, spray-free and organic produce.
A visit to the Waiheke Island Markets is great fun! The Ostend Farmers Market is held every Saturday between 8am and 1pm at the RSA building and RSA Reserve and is a great place to wander around and enjoy the sights of locals and visitors enjoying themselves and sampling some of Waiheke's world-class organic produce. You'll find lots of goodies to try and buy.
Drive The Loop on Waiheke! Enjoy a lovely drive and magnificent scenery when you Drive the Waiheke Loop road. Stop at Passage Rock Vineyard & Winery for a delicious lunch or enjoy a tasty platter and wine tasting at the beachside Man 'o War Bay Winery in beautiful Man 'o War Bay before continuing on to the Stony Batter Gun Emplacement reserve. The tunnels are currently closed (2016) however it's worth the walk from the parking area to the gun emplacements just to enjoy the magnificent scenery you will find when you get there! Continue on along the gravel road, past Cactus Bay and eventually meet up with the road you left on! A very enjoyable day out!