Festivals & Events on Waiheke Island
Waiheke Island is home to numerous exciting Festivals and Events every year. There is always a good reason to visit Waiheke for a weekend, a week or longer. Some of the more popular Waiheke Island Events are...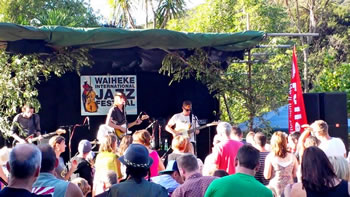 Waiheke Island Jazz Festival is held over Easter each year. World class acts will entertain you in exciting venues scattered around Waiheke Island. One of Waiheke's most popular events.
Sculpture on the Gulf Waiheke Island is held every second year during the later summer and is a Waiheke Must See event. Guided by terrain and place, established and emerging New Zealand artists transform a 2km section of headland from Te Atawhai Whenua Reserve towards Church Bay and Matiatia with more than 20 works of art installed along the coast. headland Sculpture on the Gulf will assist artists to present site specific artworks that respond to the unique Waiheke Island environment.
4 – 20 March 2022
Waiheke Olive Festival held biannually at Rangihoua Olive Estate usually in November and featuring live music, lots of delicious local artisan food and of course, a range of olive products produced on Waiheke.
Waiheke Wine and Food Festival - An unmissable summer's day out on Waiheke Island, taste boutique Waiheke wines and artisan food in one location, while basking in the sounds of some top live music.
Waiheke Walking Festival - Held in November each year the festival includes 46 free guided walks held over 9 days.
Waiheke Island Garden Safari - Waiheke Island Garden Safari has been delighting Island residents and visitors alike since 2001. It is a must-see, self-drive event for gardeners and Waiheke Island visitors. Waiheke Garden Safari takes place over two days in mid November each year.
Waiheke Wharf to Wharf Fun Run Held in late January each year since 1992. While the aim of the Event is to create a fun-filled, relaxing day for competitors and supporters alike, many elite athletes use the steep, hilly course of the 25k run to train for marathons and ultra-running events. Olympians and Olympic hopefuls – such as Mark Bright and Scott Winton – have returned regularly to participate. There are also many serious walkers competing over the same course.
Waiheke Half Marathon - Held in May the event offers Half Marathon, 10km, 2km Kid's Run
Matariki on Waiheke Island
Matariki Festival Waiheke Island is a favourite activity during the winter months and Waiheke is a fantastic place to enjoy the stars! Matariki is an internationally recognised star cluster that can be seen all ove the world. The rise of Matariki in the winter skies above Aotearoa signifies the start of the Maori New Year. The early darkness during the winter school holidays makes star gazing opportunities for kids the perfect winter activity on Waiheke. The Waiheke Community Art Gallery usually holds a Matariki celebration during the late June and July for an evening event of star gazing, music and fun.