Waiheke Island Beaches & Villages
Oneroa Village & Beach
The charming main township and the hub of Waiheke Island is delightful Oneroa Village. Offering numerous interesting specialty shops, cinema, art gallery, banks, post office, cafes, bars and restaurants all with wonderful views of Oneroa Bay and the Coromandel Peninsular, Oneroa is a favourite destination for Waiheke Island holiday makers.
While away a few hours of leisurely enjoying in the many interesting specialty shops, enjoy the great food and fabulous views on offer at any one of the many cafes or restaurants or simply sit and enjoy watching the world go by. The Waiheke Island Cinema is a treat that mustn't be missed. Fitted out with donated sofas and couches it's a fun way to enjoy the movies and an icecream! Waiheke Island Library & Artworks Complex was opened in 2014 and is well worth a visit. The beautiful new Waiheke Library building is eco friendly and has a wonderful ambiance as well as offering free wifi and free computers, books to read and DVD's to watch.
Just down one of the pathways from the main street of Oneroa Village you'll find the wide, white sand of Oneroa Beach and wonderful safe, all-tide swimming in the clear waters of Oneroa Bay. Oneroa Bay is a favourite anchorage for visiting yachts which adds to the beautiful views.
Little Oneroa
Little Oneroa is favourite beach and picnic or BBQ spot and excellent for families with small children.
This lovely bay is located at the eastern end of Oneroa Bay, separated from Oneroa Beach, also known as Big Oneroa, by a small headland and rocks which are easily navigated at low tide.
With it's beautiful white sand and excellent all tide swimming, Little Oneroa also offers one of the prettiest beaches and nicest reserves on Waiheke Island with excellent free gas BBQ's and picnic tables.
There is an excellent covered playground for the children and the Little Oneroa Beach Store just across the road. Here you'll find yummy ice-creams, terrific take-away coffee, general supplies or a nice bottle of wine. And if the urge for Fish 'n Chips or burgers at the beach takes your fancy, the Little Oneroa Takeaways just behind the Store and offers a great takeaway menu for a relaxed lunch or dinner at the beach.
Palm Beach
Beautiful Palm Beach on Waiheke Island is a well known favourite as well as being world renowned as one of the best beaches in New Zealand to visit! Located just 4 kms from Oneroa Village, the main township on Waiheke Island, you'll find the lovely white sands on the beach just perfect for sand castle building, a game of beach cricket or a delicious sunset stroll. The beautiful scenery and safe, all-tide swimming makes Palm Beach a great place to enjoy your holiday, summer or winter. The two public BBQ areas with their wonderful playing reserves and boat-shaped children's playground are very popular meeting spots for a gathering of friends or family. Just across the road you'll find the Palm Beach Store with plenty of general store supplies as well as delicious ice creams and takeaway coffee. The Palm Beach Takeaways are renowned afar for their excellent Gourmet Burgers and Fish 'n Chips - a great place to top off a great day at the beach. For the sun worshipers amonst us, there is also a secluded clothing optional' beach located around the rocks at the far western end of Palm Beach. From Palm Beach you are able to jump on the bus to Oneroa Village or it's a quick 5 minute drive. We often find visitors enjoy the 50 minute walk into Oneroa Village to visit the shops and cafes or enjoy a movie at the cinema before jumping on a bus or taking a taxi home to Palm Beach.
Onetangi Beach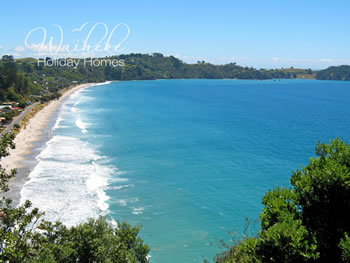 The longest beach on Waiheke, stretching approximately 2 kilometres in length, beautiful Onetangi Beach also claims the whitest sand and the largest Pohutukawa Trees of all the beaches on Waiheke Island! There is just so much space it is easy to find your very own piece of beach, even in the busiest times. The free public Gas BBQ's and picnic tables provide a favourite meeting place as do the two cafe-restaurant-bars which situated overlooking the beach and with expansive views out to the Hauraki Gulf. The Venue, also right on the beachfront at Onetangi Beach, is a lovely spot to hold your special event and is a wonderful place for a beautiful Waiheke Wedding, a special birthday or a corporate event.
Depending on the weather and sea conditions, Onetangi Beach can usually be relied upon to provide good waves for body boarding or in strong Northerly conditions, some really fun surf and the swimming conditions are just wonderful even at the lowest tide... the white sand seems to go on forever. In March each year, Onetangi hosts the famous Onetangi Beach Races where horses, tractors and 'Sea Legs' boats race along the beach! It's a great fun family day out with lots of competitions and fun for the kids as well as the adults.
Onetangi Beach is located just under 10 kms from the main township on Waiheke Island, Oneroa Village. There is a bus between Onetangi and Oneroa Village and the ferry to Auckland as well as plenty of taxi's available. The supermarket is found in Ostend, which is half way between Onetangi and Oneroa Village and there is also a general store and takeaways as well as a liquor outlet in Onetangi itself.
Surfdale Village & Beach
Surfdale is a small village in itself with 3 cafes/restaurants, a mini market, fruit and vegetable store and takeaways all available. It's located just 3 kms from the main township of Waiheke Island, Oneroa Village and it's just a 2 or 3 minute drive or a pleasant 30 minute walk to Oneroa Village.
Surfdale Beach is on the southern side of Waiheke Island and is very tidal. The beach is formed of white shell and sand and provides really wonderful swimming for a couple of hours before and after the high tide. Plenty of space and very few people! Perfect for trying out any small water craft you may have brought along with you to Waiheke. There are water ski lanes in place and the lovely, expansive bay makes a great place for boat related activities. Lovely Little Oneroa Beach is located just 1.5kms over the hill when an all-tide swim is on the agenda.
At Surfdale Beach, you'll find a lovely reserve and park with a children's playground and free gas BBQs overlooking the bay at one end of the beach. At the opposite end, around the rocks at the eastern end of the beach or accessed by a track from Hooks Lane, is Little Surfdale Beach where dogs are permitted 'off leash but under control' at all times.
Huruhi Bay - Blackpool Beach
Lovely Huruhi Bay was given the name Blackpool many years ago, a rather un-picturesque name for such a pretty bay! Located on the southern side of Waiheke Island, Blackpool Beach has a white shell/sand tidal beach which provides wonderful swimming for a couple of hours before and after the high tide.
Plenty of space and very few people! Perfect for trying out any small water craft you may have brought along to Waiheke Island with you and just lovely for toddlers and very little children to swim and play in the gentle shallows.
Enjoy a peaceful wander along the shore or continue around the Esplanade, walking right beside the water, to lovely Surfdale Beach just around the point. Just 700 metres and a very short walk will bring you to the centre of Oneroa Village, the main township and hub of Waiheke Island and where you will find a plethora of interesting and unusual shops as well as plenty of cafes, restaurants and bars.
If the tide is right out and a swim is on the agenda, then Oneroa Beach or Little Oneroa Beach are also just a quick walk over the hill and here you will find beautiful white sand beaches and safe all tide swimming.
Sandy Bay - Hekerua Bay - Enclosure Bay
Beautiful Sandy Bay on Waiheke Island is a favourite for those who looking for peace and tranquillity with safe, all-tide swimming and beautiful white sand. Sandy Bay is located half way between Oneroa and Palm Beach, just 4 kms by road from Oneroa Village. The Coastal Walkway track runs from Sandy Bay to Little Oneroa Beach and on to Oneroa Village and provides spectacular views along the way. The path is about 2.5 kms and takes around 30 mins to walk.
Sandy Bay is a lovely beach and bay for swimming and snorkelling, paddle boarding and kayaking. There are small reefs a short distance off the shore which are wonderful for kayaking over at high tide. It's also an excellent beach for families and small children as usually the sea is quite gentle and the beach is small enough that it's easy to see your littlies playing.
Enclosure Bay is just 100 metres or so along the road to the East from Sandy Bay. Almost enclosed by rocks, it's like a huge, crystal clear swimming pool at mid to high tides. The beach is right beside the road and is very easily accessed. The rocks around the sides of Enclosure Bay are a wonderful spot rock clambering and rock pool viewing at low tide. Good snorkelling can be found off Enclosure Bay as well.
Hekerua Bay is to be found just around the Coastal Walkway to the west of Sandy Bay and can only be accessed by foot or by sea. Another lovely, secluded and tiny beach with trees for shade and wonderful peace and quiet.
Ostend Village and Area
Located at the centre of the populated part of Waiheke, Ostend is the Island's service centre' and home to Waiheke Island's famous Saturday Morning Markets, held at the R.S.A. and the R.SA. grounds and a great place to 'See & Be Seen' while enjoying the huge variety of produce, delicious foods and interesting items for sale in a pleasant environment. The main Countdown Supermarket, Placemakers Hardware and other retail, commercial and industrial outlets, including the pub, doctor, pharmacy and council service centre are also located in Ostend.
Situated less than 5kms to the main township of Waiheke Island at Oneroa Village and with buses to the main settlements of the Island, Ostend is the central hub and is central to everywhere on Waiheke.
Palm Beach is just over 2kms away, a short 3 or 4 minute drive or a pleasant 30 minute walk and gorgeous Onetangi Beach is less than 5kms away, a pleasant hour's walk passing many of Waiheke Island's world famous vineyards such as Stony Ridge and Te Motu as well as Wild on Waiheke, a great place to have some fun, the Waiheke Island Golf Course and the Historical Museum.
Picnic Bay
Lovely little Picnic Bay on the eastern shore of Huruhi Bay is a well kept Waiheke Island secret.
Only 4kms from the centre of Oneroa Village and a quick 7 minute drive, it's worth a visit.
The beach is set below a lovely large grassy reserve which has a picnic table and is high set so that you can really take in the magical vistas over the bay and on to Auckland in the far distance.
Picnic Bay Beach is a white shell and sand beach and here you can enjoy lovely swimming at all tides. There is a pontoon moored in the bay which gives a fun destination to your swim.
If the sun is hot, enjoy the cool shade of the large pohutukawa tree while you while away your day.
Rocky Bay - Te Whau Point - Whakenewha Regional Park
Delightful Rocky Bay, also known as Omiha, is a sheltered South-side bay offering the peace, tranquillity and ambiance of the Waiheke Island of years gone by. A choice of two peaceful beaches to relax on and watch delightful New Zealand native birds like the Tui play in the trees or enjoy wonderful walks where an outstanding view meets you around every bend.
The main beach is slightly rocky in parts but mostly has brown sand and is a wonderful spot for a swim at all but low tide... and even then, many folk swim out around the boats moored in the bay when the tide is low. A picnic table and free Gas BBQ provide a great spot to relax and enjoy the views of the boats in the bay and at times, boats being worked on at the boat sheds along the side of the bay.
Little Rocky Bay which is just 2 or 3 mins walk along from the main beach is also lovely for high tide swimming with a brown sand beach. The lovely children's playground and reserve are beside this beach and you'll also find a picnic table and free public Gas BBQ's on the reserve right by the water's edge.
Te Whau Peninsula, at the entry of Rocky Bay, is an area of beautiful life-style blocks and provides some of the best walks and glorious views and vistas on the Island.
At the eastern side of Rocky Bay is Waiheke Island's beautiful Whakanewha Regional Park. This beautiful place has a lovely white sand & shell beach and delicious crystal clear water. It is one of the most delightful places on Waiheke Island for a delicious high tide swim! Walk out in the clear shallows at lower tides or on the sand flats at low tides and look for pipis. The DOC Park provides picnic tables, free public Gas BBQ's and toilet facilities and it's a lovely spot to take a picnic and enjoy the views back to Auckland and the Sky Tower. A favourite spot for a sunset dip and a picnic dinner.
Situated less than 5kms from Ostend in the centre of Waiheke, it's a quick 7 mins drive or a really enjoyable walk of around an hour. There are also great walkways around the shores of Rocky Bay to Whakanewha.
Shelly Beach
Shelly Beach is a very pretty southside beach located between Surfdale Village and Ostend Village. The white shell/sand beach provides wonderful swimming for a couple of hours before and after the high tide. Plenty of space and very few people, other than the younger yachties' of Waiheke Island practising sailing their P Class sailing dinghys on a Saturday morning! Perfect for trying out any small water craft you may have brought along or for a peaceful wander along the shores.
Very centrally located, it's a very short walk to Ostend Village to enjoy Waiheke Island's famous Saturday Morning Markets or replenish supplies at the supermarket. Palm Beach is only a few minutes drive or an enjoyable walk and the bus to the main township of Oneroa Village runs along the main road close by.
Eastern End - Orapiu - Otakawhe Bay
The Eastern End of Waiheke is wonderfully quiet and well and truly away from it all' and 'off the beaten track'. Less than 10kms from Onetangi Beach, it's only around 15 minutes pleasant drive on sealed road to Orapiu through beautiful farmland and featuring glorious views all the way.
Orapiu has a public wharf which is very popular with fishermen and a beach which has lovely swimming at mid to high tides. 360 Discovery Ferry calls here on its way to Rotoroa Island and Coromandel Township on weekends and during peak times. The nearest cafes, store and bus route to Oneroa Village is at Onetangi Beach, around 15 minutes drive away.
Otakawhe Bay is just 10 minute walk or a few minutes drive from Orapiu wharf and is a quiet, south facing beach with good swimming at mid - high tide. There are some lovely walking tracks in the area and lots of beautiful, magical scenery for you to enjoy.
A short drive further along the road heading north, you will find Man 'o War Bay. This is a lovely bay, often filled with visiting boats enjoying the delights offered at the Man 'o War Winery. There are also picnic tables and free public Gas BBQs right beside the beach. The bay is tidal however a good swim can be had at any tide.
Keep heading around 'The Loop' and a few minutes later you'll come to the Stony Batter Reserve. The Stony Batter Tunnels and Gun Emplacements date from World War II and are great fun for those who enjoy deep, dark, scary things! Unfortunately, the tunnels are currently closed (2016) until further notice due to safety reasons, however it's worth the 15 - 20 minute walk from the parking area to the Batter just to enjoy the magnificent views!