Welcome to Waiheke Holiday Homes Ltd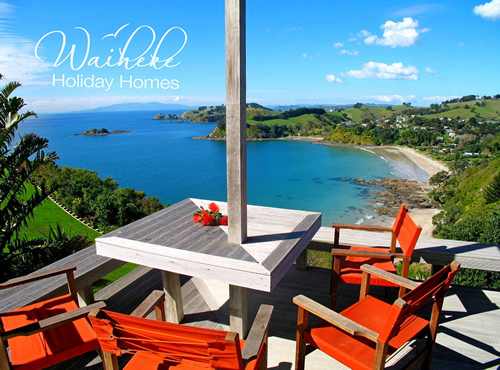 We are very friendly folk and we do love to help! We're happy to offer you a very experienced and friendly, efficient and down to earth service for booking your holiday on Waiheke Island.
We are here to help you choose the perfect holiday house on Waiheke Island and offer advice and information to help make your stay on Waiheke as enjoyable as we can. Waiheke Holiday Homes Ltd is the largest holiday home letting service on Waiheke Island and we are proud of our excellent reputation with both Waiheke Island holiday home owners and our holiday guests.
Waiheke Holiday Homes Ltd started out in 2001 as a small holiday home rental agency with a portfolio of around 25 holiday houses and has now grown and expanded to be the largest and busiest holiday home rental company on Waiheke with around 100 or more holiday & vacation homes available at any time.
We are happy to answer any questions you may have as we have extensive knowledge about Waiheke Island in general and about each and every one of thour holiday homes. We know Waiheke Island like the backs of our hands! We can advise you as to which holiday homes will meet your specific requirements and we can help you find the perfect holiday home for you and your family and friends, whether it is for a weekend break, a lovely long summer holiday, a short break during the less busy season or your special wedding weekend. We also have the perfect holiday houses for local families who have friends and relatives visiting from afar and for those who are able to stay longer than a week or two.
If you have visited Waiheke Island before, you'll already know that you're in for a special treat! Once you visit you will be smitten and will want to visit again and again. We fell in love with Waiheke ourselves and found it was easy to decide to live here and share this wonderful place with others!
If you would like to know more about Waiheke Island or our Waiheke holiday houses, please either fill in our enquiry form, send us an email or call us on 09 3724500 and we will be more than happy to help you.
We look forward to welcoming you to wonderful Waiheke Island - Jewel of the Hauraki Gulf.
Meet our Team
Lynda Hull
Lynda Hull has owned and operated Waiheke Holiday Homes Ltd since 2001 and has worked in long term rentals and holiday home rentals on Waiheke Island since 1993. She loves Waiheke Island and really enjoys sharing the beauty of the Island with others. Before moving to Waiheke, Lynda worked in the travel industry for over 15 years, both as a travel consultant and a travel agency manager and so arranging fabulous holidays for people is in her blood.
Sarah
Sarah has worked with Waiheke Holiday Homes Ltd since 2007 and handles booking enquiries and reservations. She knows the Island like the back of her hand and is always happy to offer excellent advice about Waiheke Island in general or about any or all of our lovely holiday homes. Sarah was also a travel consulant in her previous career which makes helping you with your holiday home enquiries and bookings second nature to her... she loves to help and loves to share her extensive knowledge of Waiheke and our holiday homes!
Lisa
Lisa joined our team in 2015 and also handles booking enquiries and reservations. She has lived on the Island since 2005 and knows just about everything there is to know about Waiheke Island. Lisa too spent 15 years working in the travel industry as a travel consultant and travel agency manager so turning her experience with helping people travel around the world to helping them travel to Waiheke Island is easy for her. Lisa is keen to help you choose your perfect holiday home on Waiheke!
Aitu
Aitu joined our team in 2015 to handle our accounts and administration. She has lived on Waiheke Island since the early 1990's after moving here from Fiji where she worked in administration at an island resort... a perfect foundation for working with Waiheke Holiday Homes Ltd!
Are you a Waiheke holiday home owner?
If you own a holiday house, holiday studio or holiday apartment on Waiheke then we would be delighted to hear from you. We are always looking for high quality accommodation to add to our portfolio. Click here for more information.